Moose driven hunt
The European moose is the largest wild hoofed animal in Europe. Udmurtia is one of the foremost hunting regions in European Russia. There is a very high number of hunting animals – up to fifteen mooses per 1000 hectares! The average weight of antlers is 7-10 kg, 12 kg is also not uncommon. Our record high is 16 kg.

Trophy prices
Weight of antlers*
Price

up to 5 kg
800,- €
5.01-7 kg
1.000,- €

7.01-8 kg
1.200,- €
8.01-9 kg
1.400,- €
9.01-10 kg
1.600,- €
10.01-11 kg
1.800,- €
11.01-12 kg
2.000,- €
12.01-13 kg
2.300,- €
over 13 kg
2.500,- €+25,- €/100 g
Moose without antlers
700,- €
Cow moose
700,- €
Wounded animal
600,- €
*The weight of antlers is determined with skull without mandible in 24 hours after boiling and cleaning.
Hunting season: 01.11 – 20.12
Mean t°:

-5.2 C°

-7.0 C°
Tourist days: 3 days min. + day of arrival and of departure
Optimum capacity: 3-5 hunters
Hunting service:
Guiding by huntsmen
Transport on territory
Trophy pre-preparation
Full board
Lodging
One translator per group
Price: 150,- € per day (attendant 100,- €)
Not included in the hunting service:
Invitation Letter 50,- €
Gun permits 100,- €
Veterinary certificate 50,- €
Transfer (airport – hunting ground – airport)
Equipment Recommendations:
Hunting clothing should be comfortable. Outerwear should afford protection from cold, damp and wind, have enough pockets, do not make too much noise when moving. Underwear should be breathable and pleasant to the skin, preferably made of natural materials. Shoes should also be comfortable, preferably baggy and loose enough, so that you can wear warm socks or insert warm insoles.
For hunting
Outerwear set (pants + jacket), preferably made of waterproof and windproof materials and dim colors for moving in the forest (anorak)
Thermal underwear (preferably 2 sets)
Warm sweater (preferably 2)

Warm socks/insoles (2-3 pairs)
Gumboots
Comfortable waterproof boots (preferably 2 pairs)

Headwear: Warm hat, cap/bucket hat us sun protection, mosquito net

Gloves (preferably 2 pairs)

Sit pad

Handy bag / backpack

Flashlight
For home
Home clothing set
Slippers

Banya towel

Personal cleansing
Gun
Rfle or plain-barreled gun, calibre 12 or 16
Munition: more than 7,62х51 (308 Win) and 7,62х54 R, preferably with semi-jacketed bullet Also possible: 9,3х62, 30-06 Springfild, .300 Win. Mag., 8х57 Mauser
Recommendations on health and physical preparation:
The state of health and physical fitness of the hunter should allow him to walk up to 10 km per day along hunting grounds (landscape pattern is flat with broken terrain (streams and rivers, ravines, small gullies).
Hunting Safety tips:
When handling weapons is prohibited

to use defective firearms
to be in populated areas with loaded firearms

to funnel firearms at humans and domestic animals

to transport loaded firearms

to shoot at uncleanly visible target

to shoot toward other person, transport facilities or near populated areas

to leave the numbered peg without permission of the organizers of the hunt

This hunt can be combined with the following types of hunting: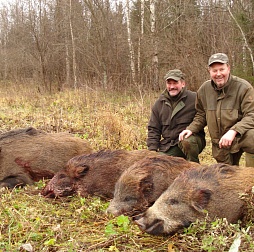 Wild boar driven hunt
Price: 1.150,- € and more
Hunting season: 01.11 – 20.12
Learn more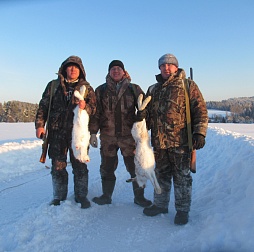 Related hunting
Hunting season: 01.11 – 31.12
Learn more